Pakistan: UN and partners seeking $357 million to... →
19 September 2011 – The United Nations and its partners are asking donors to fund a $357 million plan to help the Pakistani Government provide vital assistance to more than five million people affected by massive flooding in the country's south. The plan, launched yesterday in the Pakistani capital, Islamabad, aims to provide food, water, sanitation, health care, and emergency shelter to the...
http://www2.guidestar.org/organizations/27-3302278/... →
The Flood Fund joins GuideStar to provide organizational transparency and facilitate information sharing.
National flood strategy called for http://bit.ly/dQw4ek
Resource Mobilization Manager - Washington, DC http://bit.ly/hPhUXb
'Rainy-day funds' often go unused | INFORUM | Fargo, ND http://bit.ly/gofDgM
Record snowpack threatens spring flood http://bit.ly/ghzCQW
Buy and sell on @ebaygiving to support The Flood Fund http://t.co/aEQUJl8
AP: Tide of bodies overwhelms quake-hit Japan. http://apne.ws/h4NfeI
Heavy Rain, Winds Bring Flood Threat to US Northeast http://bit.ly/fcWKOG
Cooperation: support for the flood victims in Pakistan http://bit.ly/gFeXxe
Australian Business Conditions Were Soft Even...
SYDNEY -(Dow Jones)- Australian business conditions were weakening quickly in late 2010 even before floods which devastated large stretches of Queensland. National Australia Bank's business confidence index fell to +5 points in the fourth quarter from +9 points in the third quarter. The bank also said Tuesday its business conditions index fell to +2 points from +5 points over the same...
NOAA: Another Spring of Major Flooding Likely in...
A large swath of the country is at risk of moderate to major flooding this spring, from northeastern Montana through western Wisconsin following the Mississippi River south to St. Louis, National Weather Service flood experts are forecasting. Today the agency released an initial spring flood outlook for this high risk region and will release a national spring flood outlook on March 17....
Pakistan: 6 months after the floods - millions...
The worst disaster in the history of Pakistan has affected over 17 million people. Thirty percent of the areas remain inaccessible due to flood waters. http://bit.ly/fcPfm9
American Coal to Australia: "Are we pushing the...
  The biggest floods in Queensland, Australia, in half a century are turning into a windfall for U.S. coal mining companies anticipating record profits and the highest exports in 15 years. Shipments from the U.S. are poised to rise 8.8 percent this year to about 86.5 million tons, the most since 1996, the Energy Department in Washington said Feb. 8. Demand for American coal is increasing after...
Sri Lanka needs US$600 million for flood damage →
Hundreds of thousands displaced in Sri Lanka https://twitter.com/unicefusa/status/25983583453712384
Atlanta weather | Winter weather advisory for... →
Pakistan Floods- Canadian Red Cross →
Red Cross responds to Cyclone Yasi in Australia-... →
Floods hit 8 Jolo villages; destroy houses
MANILA, Philippines - Floods destroyed houses and submerged at least 8 barangays in Jolo, Sulu Friday after a heavy downpour hit the city Thursday night. Initial radio reports said the floods affected the following villages: Asturias, Alat, Tulay, Takut-Takut, Chinese Pier, Walled City, San Raymundo and Busbus. At least one resident was allegedy killed but the report remains unconfirmed. Jolo...
Torrential rains in Saudi, floods Jeddah killing 4
JEDDAH: Saudi authorities detained dozens of demonstrators Friday in Jeddah who gathered to protest against poor infrastructure after deadly floods swept through Saudi Arabia's second biggest city, police and witnesses said. Some Jeddah streets remained submerged Friday, and electricity was still out in low-lying parts of the city two days after torrential rains caused flooding that killed at...
The Flood Fund Confirms More Donors Required for Pakistan and Australia; http://t.co/CNsK5ik via @sfgate
The Flood Fund Confirms More Donors Required for... →
The Flood Fund determination. Misery not over for millions of flood victims in Pakistan and Australia. http://tinyurl.com/62n6rpn
U.N. HELPING SRI LANKA TO ASSIST MORE THAN ONE...
In Sri Lanka, the United Nations Country Team is supporting the nation's Government in helping over one million people affected by the severe floods caused by torrential rains that have been lashing the country in the last few weeks. The U.N. Resident/Humanitarian Coordinator, Neil Buhne, says the UN team is supporting the local authorities to collect information and respond to the growing...
Will it be Diarrhea or Turkey for Thanksgiving?
Nearly 5 months after the floods began in Pakistan this year, the world response continues to be anything other than slow.  Five long months of desperate conditions for survival; people without basic shelter, a remaining need for access to clean water for 3.7 million people, health conditions that have resulted in acute repertory infections (1,315736), malaria (417,418), acute diarrhea...
7 tags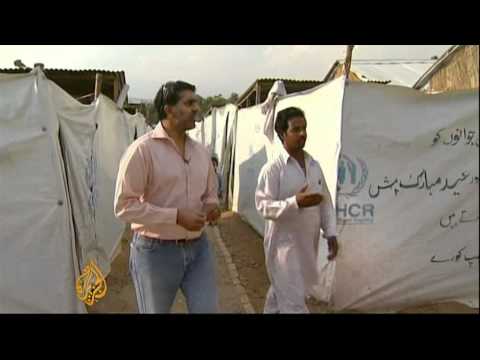 Is Pakistan important?
Some people in America do not think that it is imperative that we provide aid to Pakistan during its current need following the flood. Much of the resistance is fueled by the connection between Pakistan to terrorist elements and the Taliban. The connection to these groups among some people inside Pakistan is real, not just perceived. Consequently, there should be some discussion that sheds more...
7 tags
Where does all the aid money go?
Ever wondered where all the money collected from the general public goes?  After all, millions of dollars were collected for the tsunami, Katrina and now Pakistan.  But where does it actually all end up?  Does it really reach the people that need it?  Does it do the good that we intend it to do?  Should you contribute your hard earned money? The answer is that it does in part, but it depends upon...